Resilience, acrylic on paper
Ho Soon Son, acrylic on paper and wood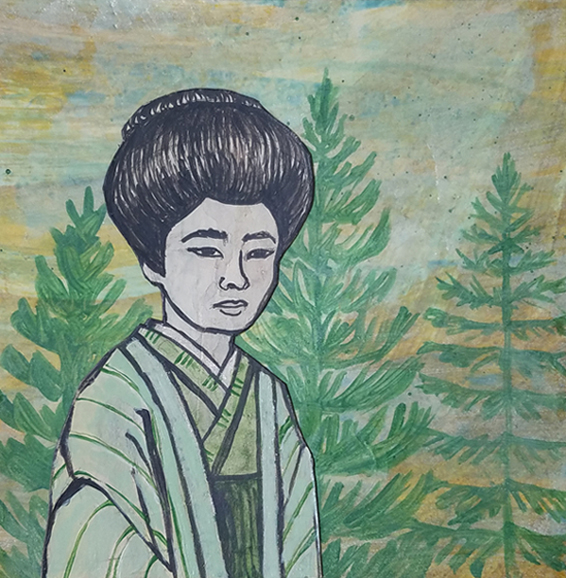 Pine Lady, acrylic on paper
Tender, acrylic on paper
Gibson Girl, acrylic on paper
Girls Day, Boys Day, acrylic on paper
Passport, acrylic on paper
Siblings, acrylic on paper
Pastel Sisters, acrylic on paper
Hope for the Future, acrylic on paper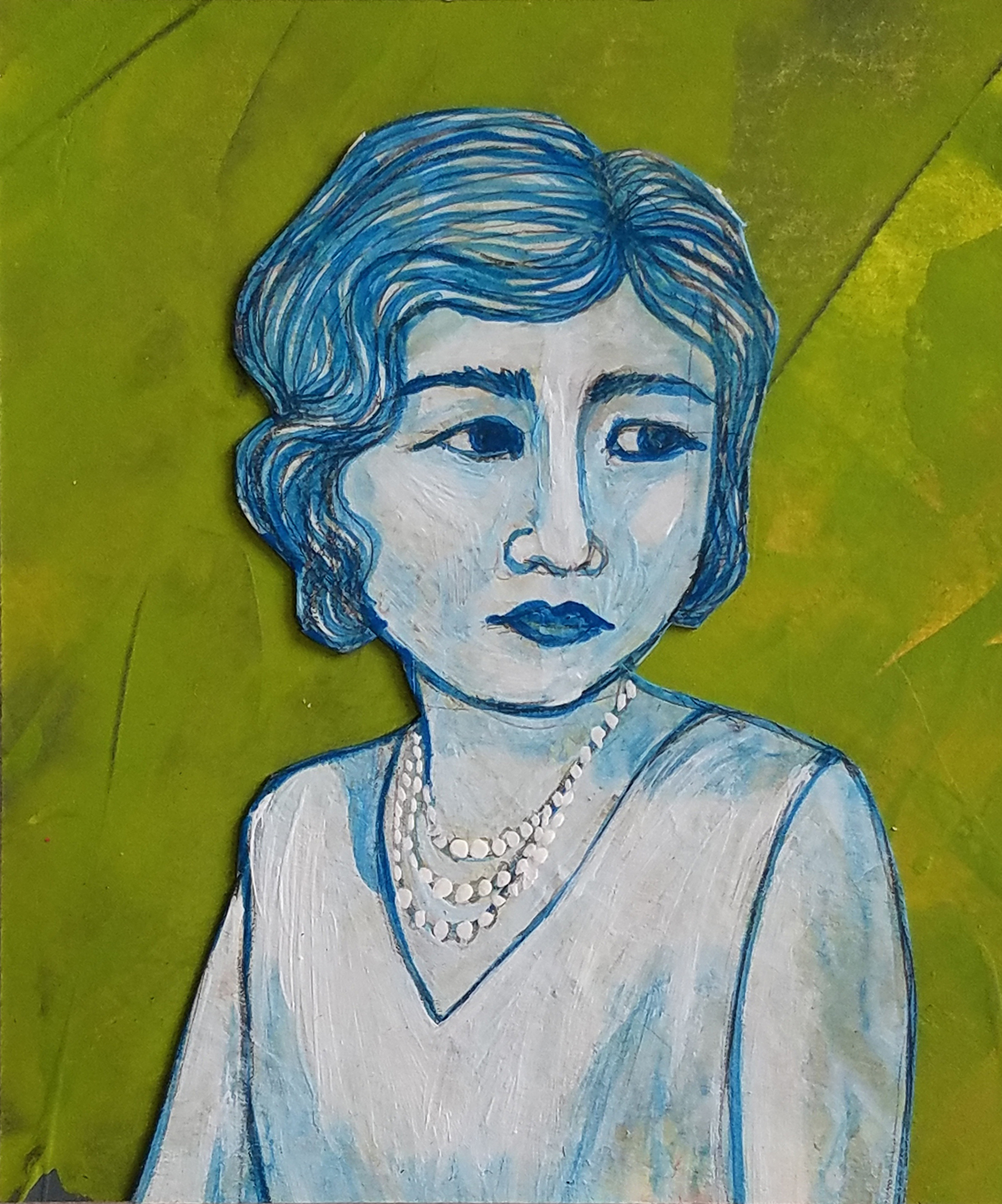 Blue Lady, acrylic on paper
You and Me Both, acrylic on paper
Bamboo Man, acrylic on paper
Stars and Stripes, acrylic on paper
Wakame fields and kimchi skies, acrylic on wood
Urashima Taro, acrylic on paper, 12 x 18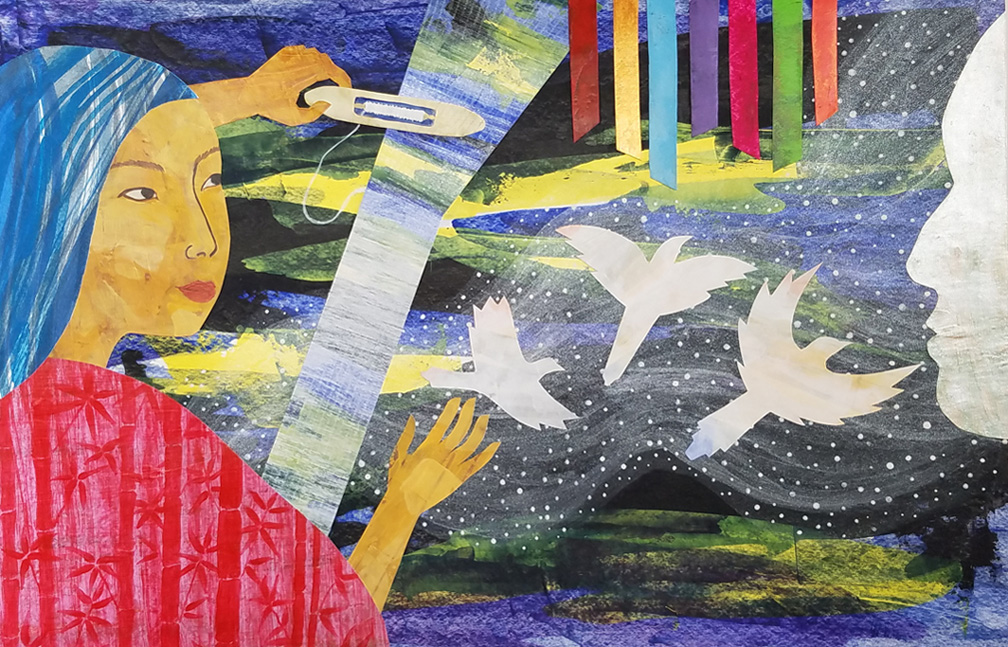 Tanabata (Evening of the Seventh), acrylic on paper, 18 x 12
Kitsune no Yomeiri (Fox Wedding), acrylic on paper, 12 x 18
Bangs, acrylic on paper, 9 x 12
Green, acrylic on paper, 9 x 12
Hush, acrylic on paper, 9 x 12
Gaze, acrylic on paper, 9 x 12
Gold, acrylic on paper, 9 x 12
Seaforms, watercolor and acrylic on canvas, 29 x 22.5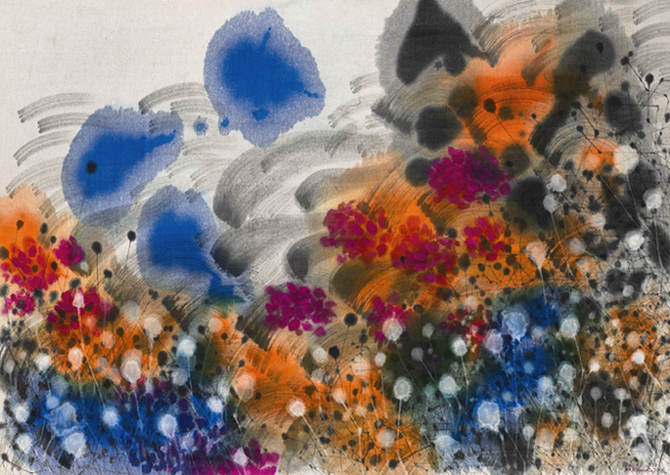 In Flux, watercolor and acrylic on canvas, 43.25 x 29.75
Calor (Heat), acrylic on paper
School Girl, acrylic on paper
School Boy, acrylic on paper
Sempre (Always), acrylic on paper
Casal (Couple), acrylic on paper
Equilíbrio (Balance), acrylic on paper
Short Grain, Long Grain, acrylic on paper
Resilience, acrylic on paper
Ho Soon Son, acrylic on paper and wood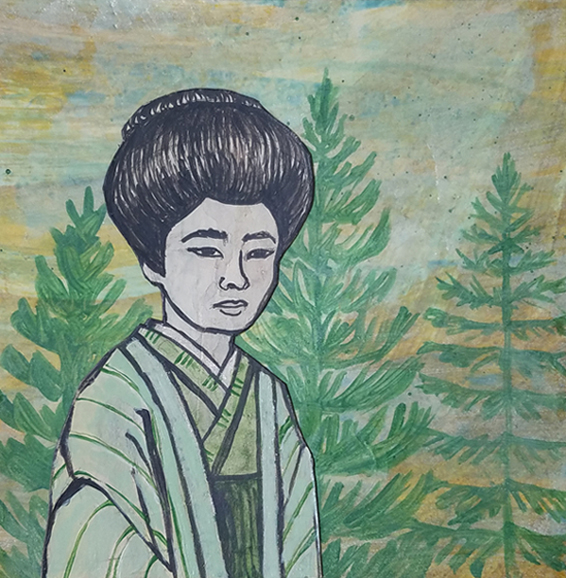 Pine Lady, acrylic on paper
Tender, acrylic on paper
Gibson Girl, acrylic on paper
Girls Day, Boys Day, acrylic on paper
Passport, acrylic on paper
Siblings, acrylic on paper
Pastel Sisters, acrylic on paper
Hope for the Future, acrylic on paper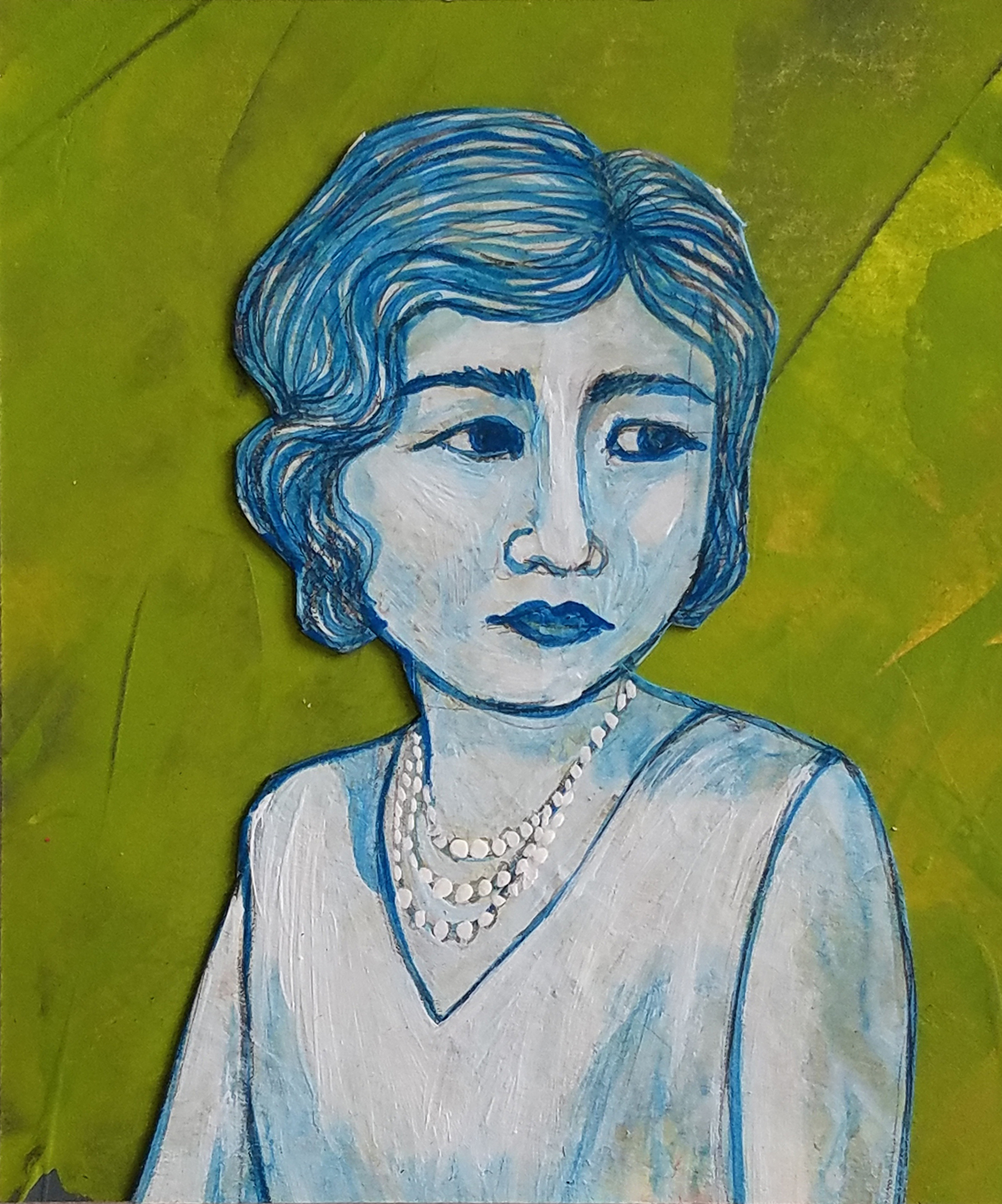 Blue Lady, acrylic on paper
You and Me Both, acrylic on paper
Bamboo Man, acrylic on paper
Stars and Stripes, acrylic on paper
Wakame fields and kimchi skies, acrylic on wood
Urashima Taro, acrylic on paper, 12 x 18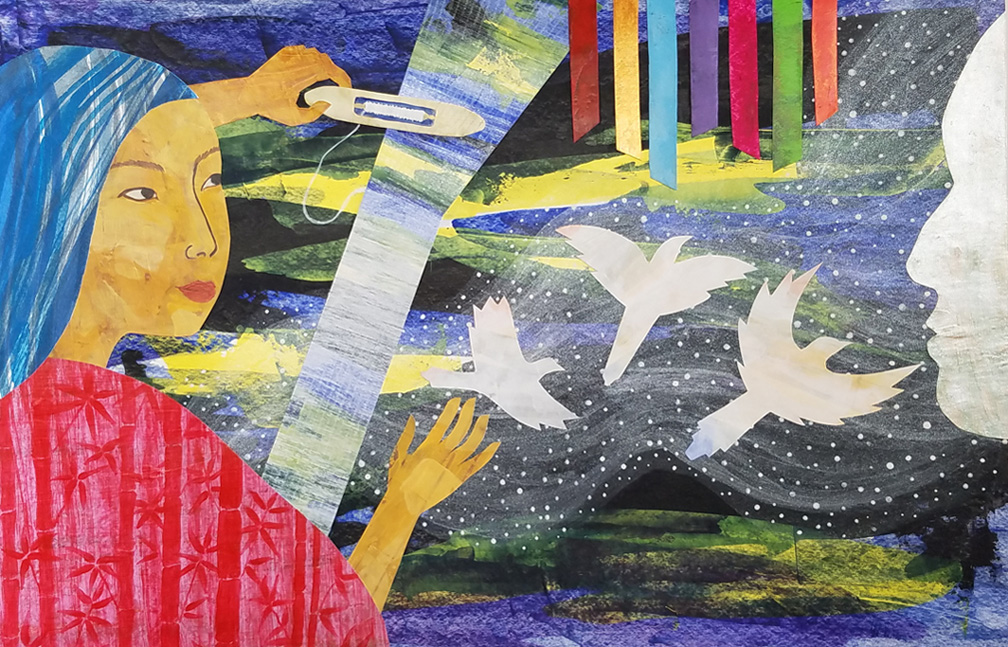 Tanabata (Evening of the Seventh), acrylic on paper, 18 x 12
The Sky King sets up his lonely daughter, the weaver princess, with a cow herder. Love blooms. The princess stops weaving. The herder lets his cows roam free all over Heaven. The Sky King is angered by the couple's neglect and separates them across the Milky Way, only allowing them to meet once a year on the seventh day of the seventh month. Magpies hear the princess crying, spread their wings and form a bridge across the Milky Way for the two to reunite.During the Tanabata Festival, wishes are written on paper strips and hung from bamboo branches to celebrate the annual reunion of star-crossed lovers.
Kitsune no Yomeiri (Fox Wedding), acrylic on paper, 12 x 18
Japanese folklore tells of Kitsune no Yomeiri, or the fox wedding, which happens when rain falls in broad daylight. These sun showers are thought to be a cover for the fox wedding.Kitsune-bi (foxfire) is witnessed at night as strings of lanterns or torches winding in a procession through the mountains – these lights are also thought to be phosphorescent fungus or oxidation of chemical phosphine from decaying plant matter. Foxfire processions are a rare sight now, attributed to deforestation.
Bangs, acrylic on paper, 9 x 12
Green, acrylic on paper, 9 x 12
Hush, acrylic on paper, 9 x 12
Gaze, acrylic on paper, 9 x 12
Gold, acrylic on paper, 9 x 12
Seaforms, watercolor and acrylic on canvas, 29 x 22.5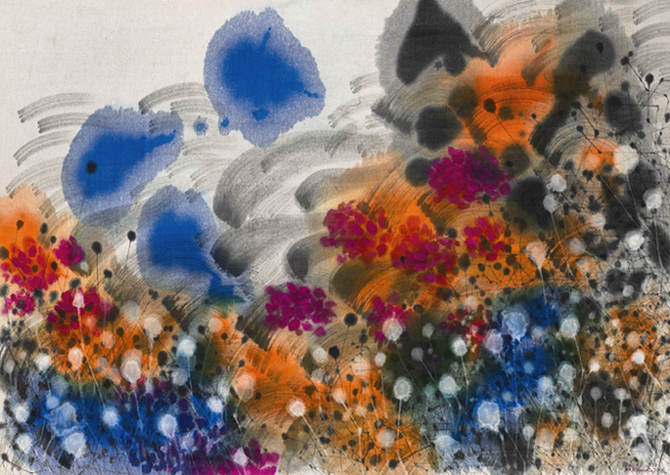 In Flux, watercolor and acrylic on canvas, 43.25 x 29.75
Calor (Heat), acrylic on paper
School Girl, acrylic on paper
School Boy, acrylic on paper
Sempre (Always), acrylic on paper
Casal (Couple), acrylic on paper
Equilíbrio (Balance), acrylic on paper
Short Grain, Long Grain, acrylic on paper
1
2
3
4
5
6
7
8
9
10
11
12
13
14
15
16
17
18
19
20
21
22
23
24
25
26
27
28
29
30
31
32
·
·
·
·
·
·
·
·
·
·
·
·
·
·
·
·
·
·
·
·
·
·
·
·
·
·
·
·
·
·
·
·